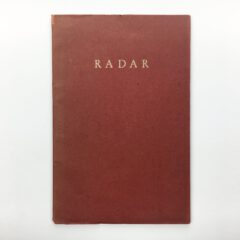 Gerrit Achterberg. Radar. Gedichten.
1946 Amsterdam, Huis aan de drie Grachten (Balkema), eerste druk, oplage 200 exemplaren, 14p. 20:13 cm. Pagina 2 en 3 verkleurd door een kranteknipsel. Kleine imperfectie links bovenaan het omslagje. In het colofon door Achterberg gesigneerd.
Als reactie op het feit dat Achterberg in 1946 de Van der Hoogtprijs niet kreeg, organiseerde uitgever Balkema een tentoonstelling rond de dichter en gaf bij die gelegenheid de bundel Radar uit. De opbrengst van de verkoop was volledig voor de dichter bestemd.
Bijgevoegd: bescheiden marge-uitgaafje van een onuitgegeven gedicht van Achterberg uit 1929, gedrukt in 290 exemplaren door de Avalon Pers te Woubrugge, voor de donateurs van het Genootschap Gerrit Achterberg, ter gelegenheid van de jaarwisseling 1986-1987.
€

85,00
Add to cart
Gerrit Achterberg. Stof.
Gedichten. 1946 Den Haag, Stols, Helikon no. 23, eerste druk, 36p. 20,5:13 cm. Ingenaaid gekartonneerd. Met opdracht aan Ad den Besten:
"Voor Ad/ van/ Gerrit"
€

85,00
Add to cart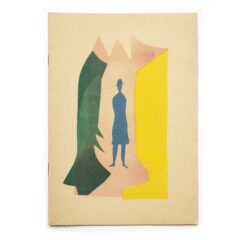 Gerrit Achterberg / H.N. Werkman. Meisje.
1944 In agris occupatis, nummer twee in de Volière-reeks, gedrukt en verlucht door H.N. Werkman, eerste druk, oplage 110 genummerde exemplaren, 12p. 25:17,5 cm. Geniet.
Afgezien van de licht roestige nietjes een uitermate fris en gaaf exemplaar.
€

900,00
Add to cart