Verkocht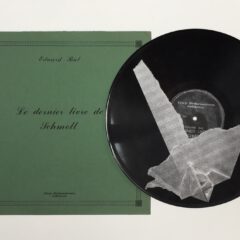 Eduard Bal. Le dernier livre de Schmoll
1977 Antwerpen, Guy Schraenen éditeur. Record-object with on each side an original airplane collage, one of 50 numbered and signed copies. In original sleeve. 31:31 cm.
An hommage to poet Paul van Ostaijen and a tasteful reference to his intended publication 'Het eerste boek van Schmoll'.
Read more
Verkocht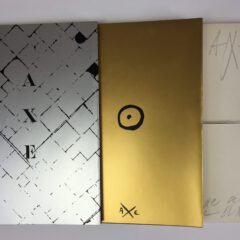 Guy Schraenen. AXE
Revue 1-3 (all published). 1975-1976 Antwerpen, Guy Schraenen, limited to 500 copies, one of the 370  numbered regular copies, complete in original slip-case. 30,5:21,5 cm.
All contributions (in silk-screen, offset and letterpress on various papers) are presented in a sparkling variety: foldouts, collages, vinyl, separate booklets.
Each issue contains a 7-inch vinyl dedicated to sound poetry: Henri Chopin & Brion Gysin [Axe 1], Brion Gysin and François Dufrêne [Axe 2], Sten Hanson [Axe 3].
Artists:
Roy Adzak, Eduard Bal, Antoine de Bary, Maurice Benhamou, Bram Bogart , Henri Chopin, Hugo De Clercq, Niko van Daele, Degottex, Jo Delahaut, Mirtha Dermisache, François Dufrêne, Esmeraldo, John Giorno, René Guiette, Brion Gysin, Sten Hanson, Bernard Heidsieck, Arrigo Lora-Totino, Françoise Mairey, Paul van Ostaijen, Plessi, Klaus Ritterbusch, L.J.P. Schelfhout, Ung No Lee.
Guy Schraenen's amazing multimedia magazine in fine condition.
Read more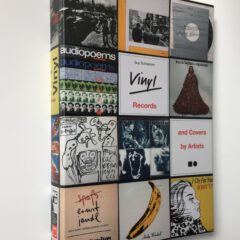 Guy Schraenen. Vinyl.
Records and covers by artists. A Survey. 2006 Bremen / Barcelona, Neues Museum Weserburg Bremen/ Museu d'Art Contemporani de Barcelona, second edition, 268p. 27:19 cm.
An unavoidable reference work!
€

60,00
Add to basket