Verkocht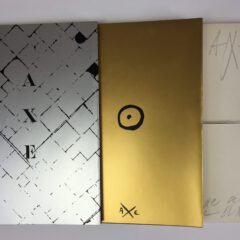 Guy Schraenen. AXE
Revue 1-3 (all published). 1975-1976 Antwerpen, Guy Schraenen, limited to 500 copies, one of the 370  numbered regular copies, complete in original slip-case. 30,5:21,5 cm.
All contributions (in silk-screen, offset and letterpress on various papers) are presented in a sparkling variety: foldouts, collages, vinyl, separate booklets.
Each issue contains a 7-inch vinyl dedicated to sound poetry: Henri Chopin & Brion Gysin [Axe 1], Brion Gysin and François Dufrêne [Axe 2], Sten Hanson [Axe 3].
Artists:
Roy Adzak, Eduard Bal, Antoine de Bary, Maurice Benhamou, Bram Bogart , Henri Chopin, Hugo De Clercq, Niko van Daele, Degottex, Jo Delahaut, Mirtha Dermisache, François Dufrêne, Esmeraldo, John Giorno, René Guiette, Brion Gysin, Sten Hanson, Bernard Heidsieck, Arrigo Lora-Totino, Françoise Mairey, Paul van Ostaijen, Plessi, Klaus Ritterbusch, L.J.P. Schelfhout, Ung No Lee.
Guy Schraenen's amazing multimedia magazine in fine condition.
Read more
Verkocht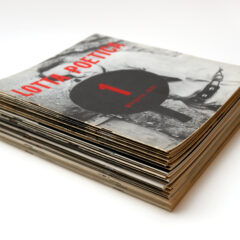 Lotta Poetica.
Rivista mensile/ Revue mensuelle/ Maandelijks tijdschrift/ Monthly review. Direzione / Direction: Paul De Vree & Sarenco.
1971-1975 Villa-nuova sul Clisi, Edizioni Amadulo, Eerste reeks compleet, 50 nummers in 32 afleveringen. 25:21,5 cm. geniet.
Met bijdragen van: Karel Adamus, Oreste Amato, Rossana Apicella, Richard Artschwager, Bernard Aubertin, Enrico Baj, Gianni Bertini, Joseph Beuys, Jean Francois Bory, Vladimir Burda, Henri Chopin, Cordioli, Robin Crozier, Guillermo Deisler, Ad Dekkers, Carl Friedrich Claus, Herman Damen, Ad Dekkers, Wladimir Dias-Pino, Herbert Distel, Cor Doesburg, Giorgio Dri, Fraco Fabiano, Enea Ferrari, Ludo Frateur, Ken Friedman, Jochen Gerz, Dick Higgins, Ewerdt Hilgemann, Emilio Isgro, Francoise Janicot, Stephen Kaltenbach, Tomaso Kemeny, Richard Kostelanetz, Alfonso Lopez Gradoli, J.H. Kocman, Jiri Kolar, Joseph Kosuth, Piero Manzoni, Lucia Marcucci, Elio Mariani, Slavko Matkovic, Peter Mayer, Christian Megert, Peter Meyboom, Eugenio Miccini, Alain Arias Misson, Aldo Mondino, Stephen Morris, Hidetoshi Nagasawa, Josef Nonys, Nahl Nucha, Luciano Ori, Clemente Padin, C.O. Paeffgen, Michele Perfetti, Lamberto Pignotti, B. Poznanovic, Prospet, Gert Jan de Rook, Sarenco, Antonio Scaccabarozzi, Jean-Marie le Sidaner, Carlo Alberto Sitta, Klaus Staeck, Carolyn Stoloff, Vlada Stojiljkovic, Miroljub Todorovic, Shimizu Toshihiko, Balint Szombathy, Tommaso Trini, Karel Trinkewitz, Tim Ulrichs, Franco Vaccari, Jiri Valoch, Henri Vandenberghe, Ben Vautier, Edgardo Antonio Vigo, Paul De Vree, Herman de Vries, Roland Werro en Jan Wojnar.
Read more