View cart
"Jules Deelder. Deelder spreekt." has been added to your cart.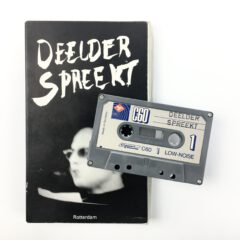 Jules Deelder. Deelder spreekt.
Geluidscassette. 1980 Rotterdam, Black Cat productie, oplage 300 exemplaren, C60 Low-Noise tape in kartonnen omslagdoosje. 18:11 cm. Met opdracht aan compagnon de route Remco Campert:
"Remco, ik was/ gisteren nog/ bij Motel de/ Postiljon/ J.D./ 22.2.80."
€

40,00
Add to cart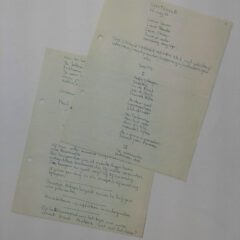 Jules Deelder. SHOTSVILLE 26 aug 66.
Handgeschreven brief uit Londen aan Simon en Reineke Vinkenoog en Olivier Boelen. 4p. 22,5:17,5 cm. geperforeerd. Associatief verslag van Deelders verblijf in Londen met het ongepubliceerde gedicht SHOTS (25 regels), waarvan fragmenten zijn terug te vinden in het lange gedicht Bright lights big city (voor het eerst in boekvorm verschenen in Moderne gedichten, 1979 De Bezige Bij).
"Any news 'bout Brussels?/ Schrijf eens terug, we blijven hier nog een/ maand. Roos poen! veel poen! Kleren!/ Fluweel, zijde, brokaat; haar geknipt, baard &/ snor… nee, niet eraf, je lijkt wel gek, veranderd/ ARISTOKRATIES!! dig??"
"Love Love Love Love/ Jules & Rosalie"
€

500,00
Add to cart