View cart
"Marcel Wauters. Er is geen begin en geen einde. Met een nawoord van Jos Joosten." has been added to your cart.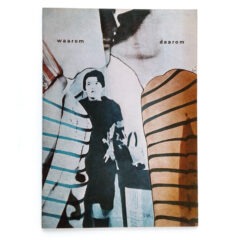 Waarom Daarom. Ruimten.
Themanummer poëtica. Zevende jaargang, nummer 26, 1968. 28 p. 23:16,5 cm. Geniet.
Redactie: Ludo Abicht, Frans Boenders, Herman De Coninck, Wim Gijsen, Jo Stevens, Luc Wenseleers. Omslag: Pol Mara.
Met bijdragen van Ludo Abicht, Albert Bontridder, Louis Paul Boon, Nic Van Bruggen, Herman J. Claeys, Hugo Claus, Herman De Coninck, Mark Dangin, Wim Gijsen, Gust Gils, Jos De Haes, Karel Jonckheere, Herman Moscoviter, Erik Van Ruysbeek, Simon Vinkenoog, Eddy Van Vliet, Hans Van Den Waarsenburg, Dick Walda, Hans Melchior Wap, Marcel Wauters, Luc Wenseleers.
€

15,00
Add to cart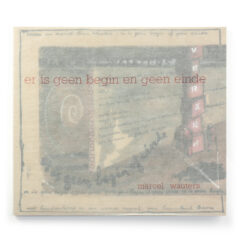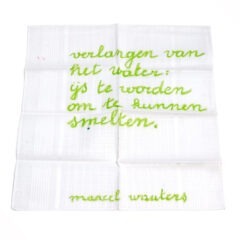 Marcel Wauters. Verlangen van het water.
Linnen zakdoekje met gesigneerd handgeschreven gedicht in groen waskrijt. 1968 Wetteren, Poeziemarkt. 28:27,5 cm. Driemaal gevouwen.
Gedicht van Marcel Wauters door hem geschreven en verkocht tijdens de fameuze eerste editie van de Poëziemarkt te Wetteren.
"Verlangen van/ het water:/ ijs te worden/ om te kunnen smelten."
€

200,00
Add to cart