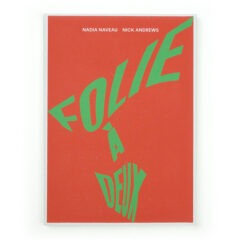 Nick Andrews / Nadia Naveau. Folie à deux.
Een bibliofiele uitgave van Demian en De Vrienden van De Zwarte Panter.
De editie bestaat uit een aquarel van Nick Andrews, een collage object en een cut-out van Nadia Naveau en twee leporello's met werk gemaakt tijdens een recente reis naar Mexico. Nick Andrews' tekst The Ballad of Nick & Nadia completeert dit sprankelende reisverslag.
Het geheel is gevat in een luxe linnen overslagmap (gesloten formaat 26:18,5 cm.) vormgegeven door Jelle Jespers. De oplage is 40 genummerde en gesigneerde exemplaren, waarvan er 30 voor de handel zijn bestemd.
€

450,00
Add to basket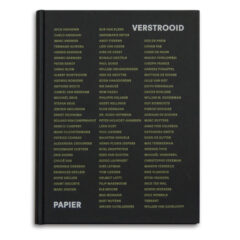 Verstrooid papier. Wat lezers in boeken achterlaten.
2012 Antwerpen [Demian] – 192p. 21:16 cm. gebonden. Illustraties in kleur.
René Franken van het Antwerpse Antiquariaat Demian verzamelt al twintig jaar opmerkelijke gedrukte en beschreven papiertjes, foto's en ander verstrooid papier dat hij vindt in de door hem aangekochte boeken.
'Verstrooid papier' verscheen ter gelegenheid van het twintigjarig bestaan van Demian en bevat een selectie uit wat lezers in boeken achterlaten, met teksten van 91 schrijvers en kunstenaars die bij Demian over de vloer komen.
€

28,00
Add to basket