Verkocht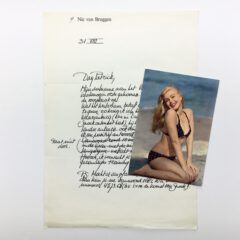 Nic van Bruggen. Brief aan Patrick Conrad.
Originele handgeschreven brief, met briefhoofding van de dichter, aan Patrick Conrad, over de erotische bloemlezing 'Het voortplantingsoffensief' (waarvoor Conrad het omslagontwerp realiseerde), een buitenlandse ontmoeting tussen Hans van de Waarsenburg en Paul Snoek, deelnemers aan het Wieler Kriterium te Buggenhout en een afgelaste dansavond in privé-club Vecu. "31 VIII" (1971). 1p. 29,5:21 cm.
"Mijn deelname aan het Voortplantingsoffensief/ is alsnog in orde gekomen… dus jongen, donder me de voorplaat op."
"zo kreeg ik een telefoontje van Hans Vd/ Waarsenburg (die in Dubrovnic een zegedriftige/ Snoek ontmoet had)"
Bijgevoegd: Pin-up vakantiekaartje uit Joegoslavië (30 augustus 1971 verstuurd), van Hans van Waarsenburg èn Paul Snoek aan Patrick Conrad.
Read more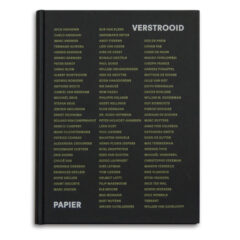 Verstrooid papier. Wat lezers in boeken achterlaten.
2012 Antwerpen [Demian] – 192p. 21:16 cm. gebonden. Illustraties in kleur.
René Franken van het Antwerpse Antiquariaat Demian verzamelt al twintig jaar opmerkelijke gedrukte en beschreven papiertjes, foto's en ander verstrooid papier dat hij vindt in de door hem aangekochte boeken.
'Verstrooid papier' verscheen ter gelegenheid van het twintigjarig bestaan van Demian en bevat een selectie uit wat lezers in boeken achterlaten, met teksten van 91 schrijvers en kunstenaars die bij Demian over de vloer komen.
€

28,00
Add to cart
Verkocht
Patrick Conrad. Pink Power. Identiteitskaart Pink.
Paspoort voor de leden van de 'Pink Poets', oningevuld exemplaar, gedrukt naar een ontwerp van Patrick Conrad. 'Printed in the desert' 12:15 cm. (opengevouwen formaat)
Het originele ontwerp is het enig bekende ingevulde exemplaar met de handtekeningen van vrijwel alle 'Pink Poets', en bevindt zich in een privé-collectie. Conrad gebruikte het document volgens eigen zeggen als officieel identiteitsbewijs. De andere leden van het 'Pink gezelschap' hadden er blijkbaar geen behoefte aan.
Read more