View cart
"Marcel van Maele. Vreemdsoortige cocktails." has been added to your cart.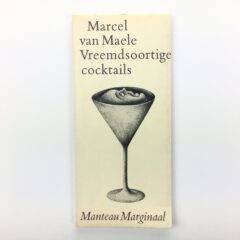 Marcel van Maele. Vreemdsoortige cocktails.
1977 Antwerpen, Manteau, Manteau Marginaal nummer 12, eerste druk, 58p. 19,5:9 cm. garenloos. Exemplaar uit het vroegere bezit van Roger M.J. de Neef met een gedicteerde opdracht (in handschrift van Carine Lampens, de levensgezellin van Van Maele), aanhef en signatuur in handschrift de dichter:
"Voor Constance en Roger,/ in dit flinterdunne boekje/ ontmoeten tot ieders verbazing/ M.v.M., wereldrecordhouder/ ajuinheffen en Jan Lapsula/ wereldrecordhouder/ regenboogcocktailmaker/ elkaar en dan maar/ beweren dat toeval niet bestaat/ Marcel van Maele/ van harte"
€

25,00
Add to cart
Verkocht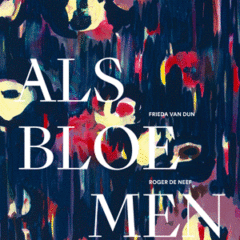 Roger de Neef / Frieda Van Dun. Als bloemen.
2018 Antwerpen, Demian / De Vrienden van De Zwarte Panter, oplage 25 genummerde en gesigneerde exemplaren, waarvan er 20 voor de handel zijn bestemd.
De editie bestaat uit een originele gouache van Frieda Van Dun en de gedichtencyclus 'Als bloemen' van Roger de Neef met een handgeschreven gedicht.
Het geheel is gevat in een luxe linnen overslagmap (gesloten formaat 26:18,5 cm.) vormgegeven door Jelle Jespers. Elke map is bekleed met een unieke opdruk van een werk van Frieda Van Dun.
Read more