Verkocht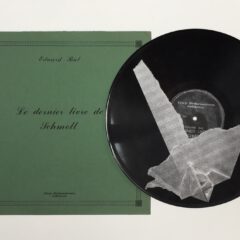 Eduard Bal. Le dernier livre de Schmoll
1977 Antwerpen, Guy Schraenen éditeur. Record-object with on each side an original airplane collage, one of 50 numbered and signed copies. In original sleeve. 31:31 cm.
An hommage to poet Paul van Ostaijen and a tasteful reference to his intended publication 'Het eerste boek van Schmoll'.
Read more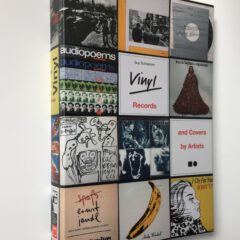 Guy Schraenen. Vinyl.
Records and covers by artists. A Survey. 2006 Bremen / Barcelona, Neues Museum Weserburg Bremen/ Museu d'Art Contemporani de Barcelona, second edition, 268p. 27:19 cm.
An unavoidable reference work!
€

60,00
Add to basket
Verkocht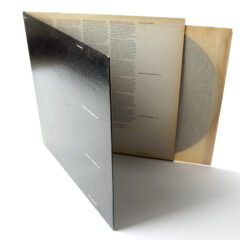 Art By Telephone (This is a recording).
1969 Chicago, Museum of Contemporary Art, catalogue on vinyl. Curator Jan van der Marck invited several conceptual artists to describe their art projects by telephone. The album features the recorded conversations.
These instructions for installations and projects that are spoken of were executed in the exhibition.
With contributions by: Siah Armajani, Richard Artschwager, John Baldessari, Ian Baxter, Mel Bochner, George Brecht, Jack Burnham, James Lee Byars, Robert Cumming, Francoise Dallegret, Jan Dibbets, John Giomo, Robert Grosvenor, Hans Haacke, Richard Hamilton, Dick Higgins, Davi Det Hompsom, Robert Huot, Alain Jacquet, Edward Kienholz, Joseph Kosuth, Les Levine, Sol LeWitt, Robert Monis, Bruce Nauman, Claes Oldenburg, Dennis
Oppenheim, Richard Serra, Robert Smithson, Gunther Uecker, Stan van der Beek, Bernard Venet, Frank Lincoln Viner, Wolf Vostell, William Wegman and William T. Wiley.
Spoken art! In fine condition.
Read more