View basket
"Hugo Claus. Jan de Lichte. Gedichtencyclus met een originele lithografie van Roel D'Haese." has been added to your basket.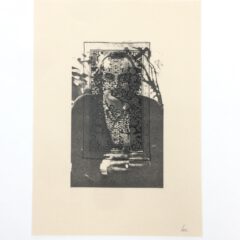 Hugo Claus. Hugues Pernath.
Originele in potlood gemonogrammeerde 'lichtdruk' (lees: fotokopie…), één van de zes lichtdrukken voor de bibliofiele editie 'Het graf van Pernath' (1977 Antwerpen, Zigurrat), oplage 110 exemplaren. 21:29,5 cm.
Guido Lauwaert in 'Alvorens alles vervaagt. Memoires.' (2018 Antwerpen), over het beginjaar (1977) van zijn Poëziewinkel (het latere Poëziecentrum in Gent):
'Op een dag stuikte Freddy de Vree binnen, samen met een dichter van formaat, Hugo Claus. Ik dacht, nu zijn we gered. Helaas, niet de dichtbundels interesseerden hen, maar de fotokopiemachine, een Océ-van der Grinten.'
'Hugo experimenteerde wat met het shaken van prenten die hij uit historische magazines had gehaald en lijntekeningen, zodat magische composities ontstonden. De definitieve versies werden gekopieerd op zoveel exemplaren als de oplage groot was. Al met al had het nauwelijks wat gekost. In de colofon werden ze niet bestempeld als fotokopies maar 'lichtdrukken'. Dat stond chiquer en verantwoordde de hoge verkoopprijs.'
€

35,00
Add to basket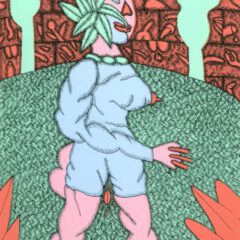 C.C. Krijgelmans / Pjeroo Roobjee. Tegen een bizarre achtergrond van algemeen verderf.
Met twee zeefdrukken in vijf kleuren van Pjeroo Roobjee. 1979 Antwerpen, Ziggurat, eerste druk, oplage 60 genummerde en gesigneerde exemplaren, één van de 50 Arabisch genummerde exemplaren. 21p. 38:29 cm. Losbladig in omslag (licht verkleurd).
Zonder de oorspronkelijke dennenhouten doos. Dit exemplaar is, zoals het hoort, in het colofon gesigneerd, maar ongenummerd gebleven. De beide gesigneerde zeefdrukken zijn wel genummerd.
€

90,00
Add to basket