Droste-Rombouts (Monika Droste et Guy Rombouts). Inventaire.
1991 Bruxelles, La Galerie Camille von Scholz, Editions Camille von numérotés et signés, un des 6 original, découpé numéroté et signé.
Un livre blanco relié en forme du mot 'Book' en Azart (un alphabet développé par Monika Droste et Guy Rombouts). La page de la justification de tirage sur une feuille insérée.
25:18cm.
Gerelateerd
Verkocht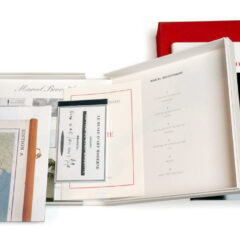 Marcel Broodthaers. Tinaia 9 Box.
1994 Köln, Tinaia 9, box with 'Le poids d'une oeuvre d'art' (monograph by Wilfried Dickhoff), 'Carte du monde poétique' (Poster), '…Modèle: Ceci n'est pas une pipe' (facsimile), 'Interviews with Freddy de Vree' (cd), 'Projets' (Book Project), 'Magie. Art et Politique' (artistbook in reprint).
Complete in original box with red slipcase. 32,5:31 cm.
Read more