Gilles Richard. Traces de feu dans la forêt d'Auxonne.
1973 Hamburg, Editions Hossmann, numéro deux de trente exemplaires signés et numérotés. Trois feuilles avec 21 photos originales.
Gerelateerd
Verkocht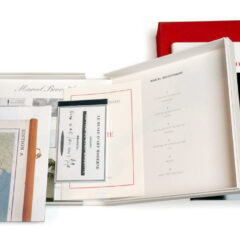 Marcel Broodthaers. Tinaia 9 Box.
1994 Köln, Tinaia 9, box with 'Le poids d'une oeuvre d'art' (monograph by Wilfried Dickhoff), 'Carte du monde poétique' (Poster), '…Modèle: Ceci n'est pas une pipe' (facsimile), 'Interviews with Freddy de Vree' (cd), 'Projets' (Book Project), 'Magie. Art et Politique' (artistbook in reprint).
Complete in original box with red slipcase. 32,5:31 cm.
Read more