View cart
"Marcel Broodthaers. Phantomas." has been added to your cart.
Verkocht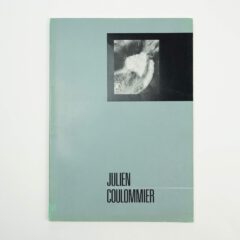 Julien Coulommier. Fotograaf.
Met teksten van Pool Andries, Marcel Broodthaers en Julien Coulommier.
1989 Brussel, Museumfonds van het Ministerie van de Vlaamse Gemeenschap, 29,5:21 cm. Ingenaaid.
Minimale knikjes in de rug. Met opdracht aan Adolf Merckx, journalist en initiatiefnemer van Celbeton:
"Aan Adolf Merckx/ Met al mijn sympathie/ Julien Coulommier/ 1991"
€

25,00
Read more
Marcel Broodthaers. Phantomas.
Special Broodthaers issue, designed by the artist.
Bruxelles, Phantomas, February 1966, XIII, No.62, one of 500 copies. Directors: Théodore Koenig, Joseph Noiret, Marcel & Gabriel Piqueray. (16p.) 22,5:14 cm, stapled.
Printed in black and red.
€

800,00
Add to cart
Verkocht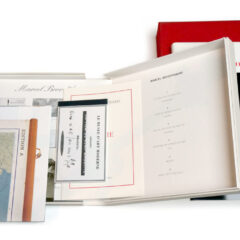 Marcel Broodthaers. Tinaia 9 Box.
1994 Köln, Tinaia 9, box with 'Le poids d'une oeuvre d'art' (monograph by Wilfried Dickhoff), 'Carte du monde poétique' (Poster), '…Modèle: Ceci n'est pas une pipe' (facsimile), 'Interviews with Freddy de Vree' (cd), 'Projets' (Book Project), 'Magie. Art et Politique' (artistbook in reprint).
Complete in original box with red slipcase. 32,5:31 cm.
Read more