View cart
"Gerrit Achterberg / H.N. Werkman. Meisje." has been added to your cart.
Gaston Burssens / Floris Jespers. Klemmen voor zangvogels.
Gaston Burssens. Klemmen voor zangvogels. Geïllustreerd door Floris Jespers. 1930 Wilrijk – Antwerpen, Avontuur, eerste druk, één van de 25 gesigneerde luxe-exemplaren op 'Velin blanc de Vidalon', met vier losse originele genummerde en gesigneerde etsen gedrukt op Chinese zijde en Japans papier, 93p. Ingenaaid. In linnen doosje met deksel (23:15 cm.). Het doosje is nogal krap van formaat, waardoor het geheel nogal strak in de houder zit. Pracht exemplaar!
Gerelateerd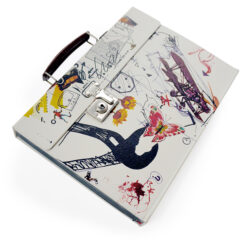 Tinguely / Pontus Hultén. "Méta".
[:nl]1973 Paris, Pierre Horay, 363p. 31:22 cm.
Catalogue in suitcase cover, with carrying handle and suitcase lock. French edition including an original machine drawing from 'Meta-Matic No. 6' in green, pink, yellow, and blue, signed in pencil by Tinguely, and a 33 1/3 rpm record with "Méta" sounds.
The ultimate suitcase edition![:]
€

750,00
Add to cart