View cart
"Asger Jorn. Catalogue Galerie Taptoe." has been added to your cart.
Gust Gils (als Konservator van het Muzeum voor Kleine Kurioziteiten). Rapporten uit het Muzeum voor Kleine Kurioziteiten. Rapport 1.
€60,00
1955 Antwerpen, eigen beheer, 4p. 22:14 cm. Vouwblad.
Afzonderlijke druk van het manifest van het Muzeum voor Kleine Kurioziteiten, ook verschenen in Gard Sivik nummer 4 (december 1955).
Gerelateerd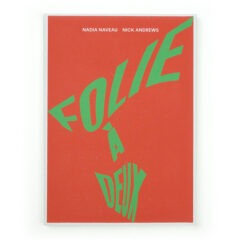 Nick Andrews / Nadia Naveau. Folie à deux.
Een bibliofiele uitgave van Demian en De Vrienden van De Zwarte Panter.
De editie bestaat uit een aquarel van Nick Andrews, een collage object en een cut-out van Nadia Naveau en twee leporello's met werk gemaakt tijdens een recente reis naar Mexico. Nick Andrews' tekst The Ballad of Nick & Nadia completeert dit sprankelende reisverslag.
Het geheel is gevat in een luxe linnen overslagmap (gesloten formaat 26:18,5 cm.) vormgegeven door Jelle Jespers. De oplage is 40 genummerde en gesigneerde exemplaren, waarvan er 30 voor de handel zijn bestemd.
€

450,00
Add to cart