View basket
"Jeroen Olyslaegers / Alexandra Crouwers. Gij, Wildeman." has been added to your basket.
John Weerdts. Zeehond. Negen teksten van John Weerdts met zeven tekeningen van Ysbrant.
€17,00
In stock
Gerelateerd
Verkocht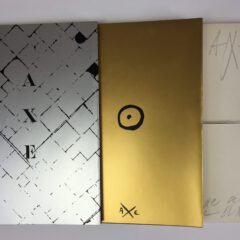 Guy Schraenen. AXE
Revue 1-3 (all published). 1975-1976 Antwerpen, Guy Schraenen, limited to 500 copies, one of the 370  numbered regular copies, complete in original slip-case. 30,5:21,5 cm.
All contributions (in silk-screen, offset and letterpress on various papers) are presented in a sparkling variety: foldouts, collages, vinyl, separate booklets.
Each issue contains a 7-inch vinyl dedicated to sound poetry: Henri Chopin & Brion Gysin [Axe 1], Brion Gysin and François Dufrêne [Axe 2], Sten Hanson [Axe 3].
Artists:
Roy Adzak, Eduard Bal, Antoine de Bary, Maurice Benhamou, Bram Bogart , Henri Chopin, Hugo De Clercq, Niko van Daele, Degottex, Jo Delahaut, Mirtha Dermisache, François Dufrêne, Esmeraldo, John Giorno, René Guiette, Brion Gysin, Sten Hanson, Bernard Heidsieck, Arrigo Lora-Totino, Françoise Mairey, Paul van Ostaijen, Plessi, Klaus Ritterbusch, L.J.P. Schelfhout, Ung No Lee.
Guy Schraenen's amazing multimedia magazine in fine condition.
Read more