View basket
"Camiel van Breedam. Livresse." has been added to your basket.
Klaas Gubbels / Cherry Duyns. Letters en cijfers.
€12,00
Houtdrukken en brieven. (eigen beheer) 48p. 15:10 cm. in omslag met rubber bandje.
Gesigneerd door Klaas Gubbels.
Out of stock
Gerelateerd
Verkocht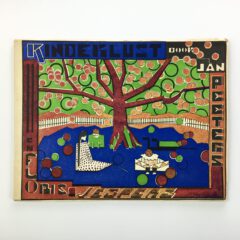 Jan Peeters / Floris Jespers. Kinderlust.
1923 Antwerpen, Reclam, 24p. en 12 pagina's volblad illustraties en een omslag van Floris Jespers, 23:30,5 cm. Lijmsporen aan de onderzijde van de rug, maar afgezien daarvan een bijzonder fris exemplaar. Voor een kinderboek, ongewoon in deze mooie staat!
Read more