View cart
"Remco Campert / Ysbrant. Zeventien schetsen voor Ysbrant. Gedichten met vijf zeefdrukken van Ysbrant." has been added to your cart.
Paul De Vree. Over den Roman.
€60,00
Cursus gehouden aan de Volksuniversiteit Herman van den Reeck. 1933 Langemark, overdruk uit Jong Dietschland studieblad voor Vlaamsche cultuur en politiek, debuut, eerste druk, 56p. 23:16 cm. Geniet.
Uit het vroegere bezit van Freddy de Vree, met zijn naam en adres op de eerste pagina.
Out of stock
Gerelateerd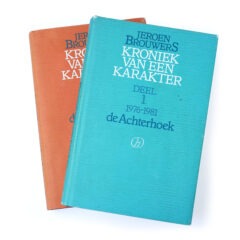 Jeroen Brouwers. Kroniek van een karakter.
Deel 1. 1976-1981. De Achterhoek. / Deel 2. 1982-1986. De oude Faust.
1987 Schoten Hadewijch eerste druk 399 / 445p. 23,5:16 cm. garenloos, gekartonneerd met omslagen.
Met inscripties op de titelpagina's:
"Ik heb een hekel aan brievenbundelingen/ (blz. 7)/ Jeroen Brouwers"
"Waar gaan mijn brieven dan over?/ (deel 1, blz. 9)/ Jeroen Brouwers"
€

125,00
Add to cart