Marcel Broodthaers. Phantomas.
€800,00
Special Broodthaers issue, designed by the artist.
Bruxelles, Phantomas, February 1966, XIII, No.62, one of 500 copies. Directors: Théodore Koenig, Joseph Noiret, Marcel & Gabriel Piqueray. (16p.) 22,5:14 cm, stapled.
Printed in black and red.
Out of stock
Gerelateerd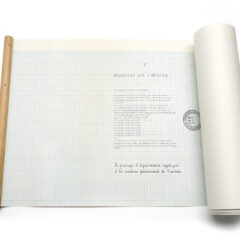 Robert Filliou. Erforschung des Ursprungs (Recherche sur I'Origine).
1974 Düsseldorf, Städtischen Kunsthalle, multiple, Auflage 400 exemplare. Bedruckte papierbahn in einer Rolle (30:950 cm.).
Mit Beiheft. 27p. 15: 10,5 cm. Wasserschaden. Nicht signiert von Filliou, stattdessen mit Widmung (Wasserfleckig aber lesbar) von Daniel Spoerri:
"Robert est mon/ grandfrère,/ mais moi je suis sa/ mêre,/ vous trouvez pas/ que ca complique/ les choses
assez?/ Salute Freddy/ Daniel Spoerri/ 18 okt 74"
€

600,00
Add to cart