View cart
"Robert Filliou. Erforschung des Ursprungs (Recherche sur I'Origine)." has been added to your cart.
Marcel Broodthaers. Phantomas.
€800,00
Special Broodthaers issue, designed by the artist.
Bruxelles, Phantomas, February 1966, XIII, No.62, one of 500 copies. Directors: Théodore Koenig, Joseph Noiret, Marcel & Gabriel Piqueray. (16p.) 22,5:14 cm, stapled.
Printed in black and red.
Out of stock
Gerelateerd
Verkocht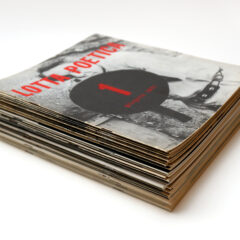 Lotta Poetica.
Rivista mensile/ Revue mensuelle/ Maandelijks tijdschrift/ Monthly review. Direzione / Direction: Paul De Vree & Sarenco.
1971-1975 Villa-nuova sul Clisi, Edizioni Amadulo, Eerste reeks compleet, 50 nummers in 32 afleveringen. 25:21,5 cm. geniet.
Met bijdragen van: Karel Adamus, Oreste Amato, Rossana Apicella, Richard Artschwager, Bernard Aubertin, Enrico Baj, Gianni Bertini, Joseph Beuys, Jean Francois Bory, Vladimir Burda, Henri Chopin, Cordioli, Robin Crozier, Guillermo Deisler, Ad Dekkers, Carl Friedrich Claus, Herman Damen, Ad Dekkers, Wladimir Dias-Pino, Herbert Distel, Cor Doesburg, Giorgio Dri, Fraco Fabiano, Enea Ferrari, Ludo Frateur, Ken Friedman, Jochen Gerz, Dick Higgins, Ewerdt Hilgemann, Emilio Isgro, Francoise Janicot, Stephen Kaltenbach, Tomaso Kemeny, Richard Kostelanetz, Alfonso Lopez Gradoli, J.H. Kocman, Jiri Kolar, Joseph Kosuth, Piero Manzoni, Lucia Marcucci, Elio Mariani, Slavko Matkovic, Peter Mayer, Christian Megert, Peter Meyboom, Eugenio Miccini, Alain Arias Misson, Aldo Mondino, Stephen Morris, Hidetoshi Nagasawa, Josef Nonys, Nahl Nucha, Luciano Ori, Clemente Padin, C.O. Paeffgen, Michele Perfetti, Lamberto Pignotti, B. Poznanovic, Prospet, Gert Jan de Rook, Sarenco, Antonio Scaccabarozzi, Jean-Marie le Sidaner, Carlo Alberto Sitta, Klaus Staeck, Carolyn Stoloff, Vlada Stojiljkovic, Miroljub Todorovic, Shimizu Toshihiko, Balint Szombathy, Tommaso Trini, Karel Trinkewitz, Tim Ulrichs, Franco Vaccari, Jiri Valoch, Henri Vandenberghe, Ben Vautier, Edgardo Antonio Vigo, Paul De Vree, Herman de Vries, Roland Werro en Jan Wojnar.
Read more