View cart
"Simon Vinkenoog. Blurb 4." has been added to your cart.
Marcel Broodthaers. Phantomas.
€800,00
Special Broodthaers issue, designed by the artist.
Bruxelles, Phantomas, February 1966, XIII, No.62, one of 500 copies. Directors: Théodore Koenig, Joseph Noiret, Marcel & Gabriel Piqueray. (16p.) 22,5:14 cm, stapled.
Printed in black and red.
In stock
Gerelateerd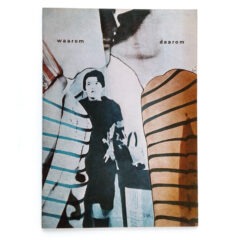 Waarom Daarom. Ruimten.
[:nl]Themanummer poëtica. Zevende jaargang, nummer 26, 1968. 28 p. 23:16,5 cm. Geniet.
Redactie: Ludo Abicht, Frans Boenders, Herman De Coninck, Wim Gijsen, Jo Stevens, Luc Wenseleers. Omslag: Pol Mara.
Met bijdragen van Ludo Abicht, Albert Bontridder, Louis Paul Boon, Nic Van Bruggen, Herman J. Claeys, Hugo Claus, Herman De Coninck, Mark Dangin, Wim Gijsen, Gust Gils, Jos De Haes, Karel Jonckheere, Herman Moscoviter, Erik Van Ruysbeek, Simon Vinkenoog, Eddy Van Vliet, Hans Van Den Waarsenburg, Dick Walda, Hans Melchior Wap, Marcel Wauters, Luc Wenseleers.[:]
€

15,00
Add to cart