View cart
"Joost Swarte. Niet zo, maar zo!" has been added to your cart.
Nick Andrews / Jeroen Olyslaegers. Wandering Eye
€25,00
Een reisverslag van Nick Andrews en Jeroen Olyslaegers met een inleiding door Marc Ruyters. 2009 Antwerpen, De Zwarte Panter, oplage 400 exemplaren, 18,5:13,5 cm. Met stempel en monogram van Nick Andrews.
In stock
Gerelateerd
Verkocht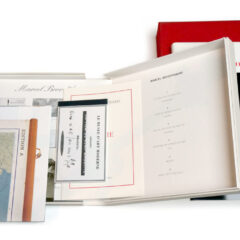 Marcel Broodthaers. Tinaia 9 Box.
1994 Köln, Tinaia 9, box with 'Le poids d'une oeuvre d'art' (monograph by Wilfried Dickhoff), 'Carte du monde poétique' (Poster), '…Modèle: Ceci n'est pas une pipe' (facsimile), 'Interviews with Freddy de Vree' (cd), 'Projets' (Book Project), 'Magie. Art et Politique' (artistbook in reprint).
Complete in original box with red slipcase. 32,5:31 cm.
Read more