You cannot add "De straat. Vorm van samenleven." to the cart because the product is out of stock.
Nick Andrews / Jeroen Olyslaegers. Wandering Eye
€25,00
Een reisverslag van Nick Andrews en Jeroen Olyslaegers met een inleiding door Marc Ruyters. 2009 Antwerpen, De Zwarte Panter, oplage 400 exemplaren, 18,5:13,5 cm. Met stempel en monogram van Nick Andrews.
In stock
Gerelateerd
Verkocht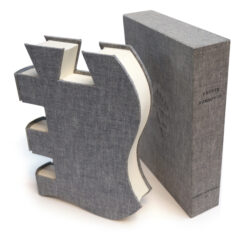 Droste-Rombouts (Monika Droste et Guy Rombouts). Inventaire.
1991 Bruxelles, La Galerie Camille von Scholz, Editions Camille von numérotés et signés, un des 6 original, découpé numéroté et signé.
Un livre blanco relié en forme du mot 'Book' en Azart (un alphabet développé par Monika Droste et Guy Rombouts). La page de la justification de tirage sur une feuille insérée.
25:18cm.
Read more